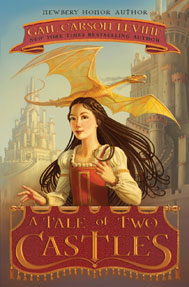 I wrote the following review for School Library Journal's April 2011 edition.
LEVINE,
Gail Carson.
A Tale of Two Castles.
336p. CIP.
HarperCollins.
May 2011.
Tr $16.99. ISBN 978-0-06-122965-7; PLB $17.89. ISBN 978-0-06-122966-4.
LC 2010027756.

Gr 5-8
–When 12-year-old Elodie leaves her family farm for the capital city of Two Castles, she intends to apprentice herself to a mansioner, as actors are called. However, as she has no money for an apprenticeship, she goes to work for a clever if cantankerous dragon named Meenore, who instructs her in solving mysteries using induction, deduction, and common sense. Elodie's first big case is to try to figure out who is stealing from and threatening the life of the town's ogre, Count Jonty Um. There are so many suspects, and no one is quite the individual he or she seems; it takes all of Elodie's new skills to keep the Count–and herself–from harm. Although warned about dragons and ogres, Meenore and Jonty Um become Elodie's closest friends. Meenore, whose gender is unknown and so must be referred to as IT, is prickly but steadfast, and shy Jonty Um is hugely troubled by how much everyone hates and fears him. Other characters, such as the gorgeous cat trainer Count Thiel and the dithering Princess Renn, are also fascinatingly unpredictable. Elodie, luckily, is sensible and reliable through and through (if inclined to the dramatic side of life). Readers are certain to be pulled, like Elodie herself, right into the midst of the rich and swirling life of Two Castles.
–Eva Mitnick, Los Angeles Public Library