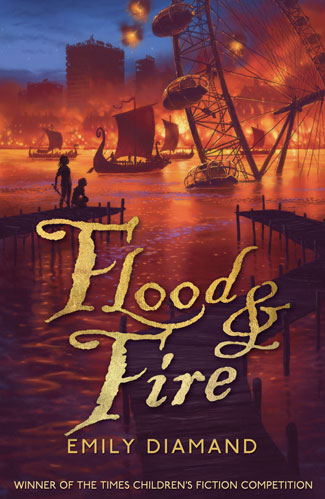 I wrote this review for the July 2011 issue of School Library Journal.
DIAMAND,
Emily.
Flood and Fire. Bk. 2.
351p. (Raiders' Ransom Series). CIP.
Scholastic/Chicken House.
2011.
Tr $17.99. ISBN 978-0-545-24268-4.
LC 2010023544.
Gr 5-8
–In this follow-up to
Raiders' Ransom
(Scholastic, 2009), readers are plunged right back into the action as Lilly and Lexy try to escape raider territory and sail home to Lilly's fishing village. Instead, they travel to Cambridge and then to London, where a battle between the English and the Viking-like raiders is raging. Much of 23rd-century England is under water, and technology, being blamed for the breakdown of society, was banned long ago and is considered evil. Yet because of its power and rarity, Lilly's late-21st-century gaming console is an object of desire for the raiders, and Lilly's raider friend Zeph is forced to choose between his loyalty to his friends and to his Family. Readers will sympathize with his dilemma but it's the fast-moving plot and the wild-and-woolly post-technological setting that will keep the pages turning. The game console AI, a conceited and high-maintenance personality, provides invaluable assistance and comic relief, and its aid in battling a malfunctioning military computer's marauding robots results in a vivid finale against the backdrop of a flooded but still-vibrant London. Fans of the first book will be satisfied with this exciting sequel.
–Eva Mitnick, Los Angeles Public Library